single-exhibition.php
archive-single-exhibition-connected-list-one-entry.php
VOICE:over V
14 Dec 2022 – 4 Feb 2023
archive-single-exhibition-connected-list-one-entry.php
Ausgezeichnete Ideen
3 Nov – 3 Dec 2022
archive-single-exhibition-connected-list-one-entry.php
VOICE:over IV
26 Aug – 23 Sep 2022
archive-single-exhibition-connected-list-one-entry.php
3 Aug – 13 Aug 2022
archive-single-exhibition-connected-list-one-entry.php
VOICE:over II
9 Jun – 30 Jul 2022
archive-single-exhibition-connected-list-one-entry.php
VOICE:over I
13 Apr – 28 May 2022
archive-single-exhibition-connected-list-one-entry.php
5 Mar – 2 Apr 2022
archive-single-exhibition-connected-list-one-entry.php
14 Jan – 26 Feb 2022
archive-single-exhibition-detail.php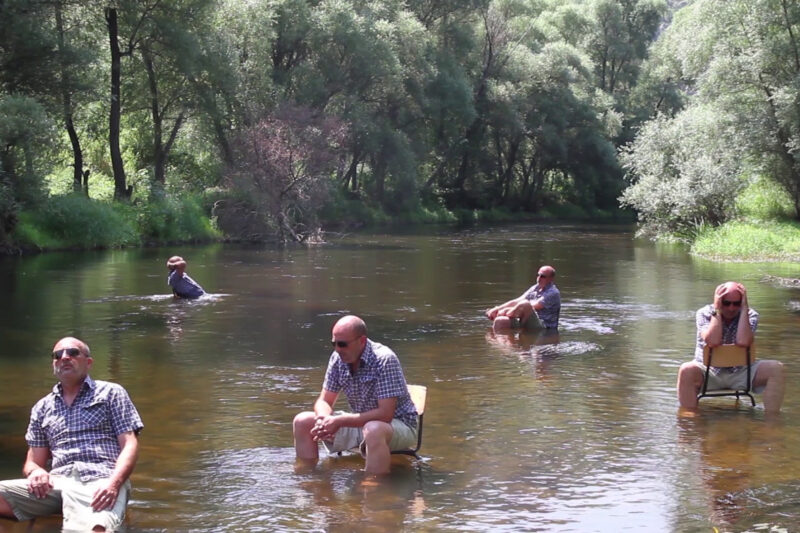 Opening:
Soft Opening: Wed 3 Aug, 5–9 pm
A Man and a River – the video installation Waterworks is a Serbian-Croatian collaboration that uses absurd-looking settings and performances and art historical quotations to question the relationship between nature and man.  The 10-day video installation, consisting of the videos Tycoon, The Man In The Foreground, A White Body In A Black River and Painting An Island…, is staged especially for the small hall of Galerie Nord, which it conceives of as a landscape space.
Dragan Matic (Novi Sad, Serbia) and Vladimir Frelih (Osijek, Croatia) have been working together since 2011 and have realised more than ten video works in addition to their own artistic works and the joint photographic works.
They explore the concepts of visualisation, the boundaries between digital and analogue media and their communication, translatability and compatibility. The individual, the community and society are inseparable elements of their artistic and pedagogical thinking and the end product, a work of art, is often an aesthetic side effect.
Connected events: