single-exhibition.php
archive-single-exhibition-connected-list-one-entry.php
VOICE:over V
14 Dec 2022 – 4 Feb 2023
archive-single-exhibition-connected-list-one-entry.php
Ausgezeichnete Ideen
3 Nov – 3 Dec 2022
archive-single-exhibition-connected-list-one-entry.php
VOICE:over IV
26 Aug – 23 Sep 2022
archive-single-exhibition-connected-list-one-entry.php
3 Aug – 13 Aug 2022
archive-single-exhibition-connected-list-one-entry.php
VOICE:over II
9 Jun – 30 Jul 2022
archive-single-exhibition-connected-list-one-entry.php
VOICE:over I
13 Apr – 28 May 2022
archive-single-exhibition-connected-list-one-entry.php
5 Mar – 2 Apr 2022
archive-single-exhibition-connected-list-one-entry.php
14 Jan – 26 Feb 2022
archive-single-exhibition-detail.php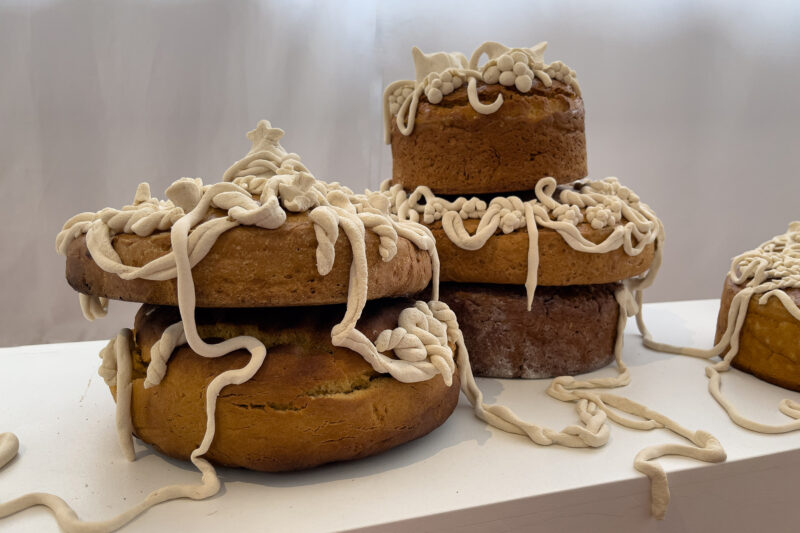 Opening:
Fri 26 August, 6 pm
Welcome and Introduction: Veronika Witte und Valeria Schiller
The exhibition Battle Cry offers young Ukrainian curators, artists and their international colleagues an opportunity to raise their artistic voices beyond despair and the desire to cry out about the consequences of war.
Some of the works refer directly to the current war in Ukraine, but the exhibition's range of topics is broader: power relations, questions about communication in general and the functioning of propaganda are examined by these young artists – cynically, critically, humorously.
The artist Zhenia Stepanenko bakes and serves Ukrainian weddings cakes to the visitors. The traditionally decorated cakes look inviting at first glance. But eating them causes emotional discomfort, since there sweetness becomes bitter in a faraway place.
Bohdana Zaiats' work addresses the current ban on photography in public space in Ukraine. She uses existing images of places and invites visitors to photograph themselves in front of them – souvenir photos of places that may already be destroyed or will be destroyed soon.
Maksym Khodak's TikTok videos convey how the war is gradually becoming part of everyday life. The videos show how war can be translated into the language, strategies and codes of contemporary media culture.
As a kind of counterpoint to the Ukrainian positions, the exhibition shows a video by Danish artist Christian Falsnæs. The artist avoids any kind of specific political statement and instead focuses on the effects of inflammatory rhetoric in general. He gets the audience to imitate and participate in his absurd and nonsensical gestures, thus becoming part of a game that unmasks methods 
of instigation.
The artists of Battle Cry use and subvert means of communication, reflect on possible and impossible political influence and explore attempts at communication, at mutual understanding as well as being misunderstood in war and as a consequence of war.
curated by Valeria Schiller
———
Programme Series VOICE:over
Over the next two years, the Galerie Nord | Kunstverein Tiergarten's VOICE:over programme series will delve into various phenomena related to the voice. With cross-disciplinary exhibition projects, performances and a multifaceted outreach programme, VOICE:over explores the changes in meaning and significance of physical and social forms of the voice – from screams to speech and song to artificial intelligences' posthuman imitation of the human voice.
Supported by the federal programme "Neustart Kultur" of Stiftung Kunstfonds and by the multi-sector funding as well as the district funding of the Senate Department for Culture and Europe.

Connected events: